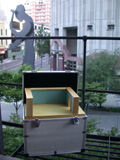 JEMA with the Seattle Art Museum in the background.
JEMA's mission is to display and collect innovative and provocative con-temporary art and/or offer exhibitions that allow people to think differently about the nature of art and art practice. JEMA's design allows it to perform and embody numerous aspects of art and art practice in a simultaneous manner. JEMA is a museum, display case, crate, exhibition space, sculpture, photographic series, performance, installation, site-specific project, collaboration and web-based project. In fact, in its operation JEMA exhibits and demonstrates almost all media associated with visual art (sometimes simultaneously). In addition, it involves nearly all the realms of art practice and the business of art, revitalizing the roles of curator, artist, and viewer.
JEMA dematerializes the art institution and re-envisions it as a tool (capable of being transported as carry-on luggage) while still highlighting and publicizing artists and providing a rich cultural service. The practice of creating, owning, and operating JEMA has pioneered a new criterion for analyzing exhibition spaces. Special concerns at JEMA, associated with art exhibition and promotion have led to coinage of new phrases to address the unique issues and assets facing this institution. JEMA slogans include: "The Museum/Tool Paradox", "The Location Variable Equation ", "Museum Stealth", and "Spatial Prejudice".
The coming year offers exciting opportunities to view and consider a variety of new artists and ideas. We hope you will spend a little time at JEMA.
So please come see JEMA or let JEMA come to you.